Posts for: February, 2012
By Dr. Jeffrey R. Wert & Associates - Family Dentistry
February 16, 2012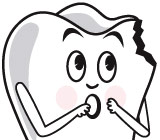 Nearly every parent and caregiver has experienced that almost instantaneous sick feeling when they see that their child has been injured, especially when it is an injury to the mouth and teeth. For some, it is just a bloody lip; however, if the accident chipped a tooth, then you may have a completely different situation on your hands. If the nerve of the tooth has not been damaged, you needn't worry too much — a composite (plastic) tooth-colored restoration that is actually bonded to the tooth is an ideal material for repairing most broken or chipped teeth. See us as soon as possible to assess the extent of injury, so that proper and appropriate action can be taken.
An additional reason why bonding with composite resin may be the ideal choice for repairing a child's chipped tooth is that it can be custom created in virtually any shade so that it perfectly matches the damaged tooth and the surrounding teeth. It is also far less expensive than a crown, an important factor to consider when repairing a primary (baby) tooth that will eventually fall out to make room for a permanent tooth. If the injury is to a permanent tooth, a composite resin still may be ideal to use as a restoration until your child or teenager has stopped growing or playing contact sports. This is because your teenager may be too young for a more permanent restoration such as a crown or porcelain veneer.
An important, proactive step you can take to be prepared for the next time your child has a dental injury is to download Dear Doctor's Field-side Pocket Guide for Dental Injuries. This handy, quick reference guide is a must have for athletes, parents, caregivers, teachers, coaches or anyone who is often in an environment where a mouth injury is likely to occur. Knowing what to do and how quickly you must respond can make the critical difference between saving and losing a tooth.
By Dr. Jeffrey R. Wert & Associates - Family Dentistry
February 08, 2012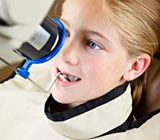 Yes, dental x-rays are a safe and vital tool we use for measuring and monitoring your oral health. We feel it is imperative to ensure that our patients have the facts — especially when it comes to their oral healthcare. This is why we want to respond to this important question about the safety of dental x-rays.
We want you to know what they are, how they are used, what makes them a safe and effective tool, and why they are so important to dentistry and your health. X-rays are a form of electromagnetic radiation, in fact, just like natural daylight, except they have a much shorter wavelength. And because they are a form of ionizing radiation, they can easily penetrate bodily tissues without causing any harm when used properly. The reasons we use them are obvious; they help us literally see what is unseen. For example, they enable us to see bone structure and roots of teeth among other things, and are commonly used for diagnosing tooth decay. Furthermore, today's x-ray machines and other image capturing techniques are so sophisticated and sensitive that the amount of radiation required for diagnosis is almost nothing when compared to what you get from the background radiation present in everyday living. In fact, the average single digital periapical ("peri" – around; "apical" – root end of a tooth) film is equal to 1/10 the amount of everyday natural environmental exposure. These facts make it clear that dental x-rays are completely safe and, thus, are nothing you need to be concerned about.
Learn more about this topic by reading the Dear Doctor magazine article "X-ray Frequency And Safety." If you need to schedule an appointment, contact us today.