Posts for tag: root canal
By Dr. Jeffrey R. Wert & Associates - Family Dentistry
November 19, 2012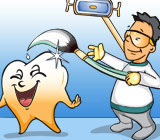 If you are pleased with your smile except for that one front tooth that appears darker, then we have good news for you. Often a tooth appears darker as a result of trauma that may have occurred years ago. Your tooth may need root canal treatment or may have already had root canal treatment in the past. Regardless, you can whiten this tooth via a process called internal bleaching. And as the name suggests, the tooth can be bleached from the inside out. Here's a brief summary of how this entire process works:
Performing an x-ray exam: The first step is to take a radiograph (x-ray) to make sure that your root canal filling is intact adequately sealing the root canal and the surrounding bone is healthy.
Making an access hole: To apply the bleaching agent, a small hole will need to be made in the back of your tooth to apply the bleach. However, before doing that, the area must be thoroughly cleaned and irrigated.
Sealing above the root canal filling: This step is critical to prevent the bleach from leaking into the root canal space.
Applying the bleach: To obtain the whitening needed, it typically requires between one and four office visits for additional bleaching.
Applying a permanent restoration: Once your tooth has lightened to the desired color, a permanent filling will be placed over the small hole to seal your tooth's dentin. This is then covered with tooth-colored composite resin (filling material) so that the access hole is undetectable to the naked eye.
To learn more about this procedure and see amazing before and after images, continue reading the Dear Doctor article, "Whitening Traumatized Teeth." Or, you can contact us to discuss your questions or to schedule an appointment.
By Dr. Jeffrey R. Wert & Associates - Family Dentistry
April 12, 2012
Root canal, or endodontic ("endo" – inside; "dont" – tooth) treatment, is often wrongly perceived as a highly unpleasant experience and one that causes tremendous pain. However, the truth is that the procedure actually relieves the pain being caused by an infected and inflamed tooth pulp (inside of the tooth). Advances in dentistry have made treatment virtually pain free and it can be completed relatively quickly, usually in a single visit. Left untreated, infection can spread into the bone immediately around the tooth's root, so prompt attention is the best course of action.
If the term "root canal" still sends shivers down your spine, don't despair. Here is some information that should help put your mind at ease.
Root canal treatment is necessary when deep decay or trauma has caused the inside (pulp) of the tooth to become inflamed or infected. Symptoms of infection can include sharp pain when biting down, lingering pain after consuming very hot or cold foods, a dull ache and feeling of pressure near the infected tooth, and tender gum tissue surrounding the infected tooth.
After a local anesthetic is administered to numb the infected tooth and its surrounding area, we will make a small opening on the chewing surface of the tooth. This will allow us to remove dead and dying tissue from the pulp and to then clean and disinfect the root canals. Using small instruments, we will shape the canals and seal them with biocompatible filling materials.
You may feel slight tenderness at the treated site for a few days, but this is quite manageable and can be relieved with over-the-counter (OTC) non-steroidal, anti-inflammatory pain relievers such as aspirin or ibuprofen. You should refrain from chewing on the treated tooth until your follow-up appointment. A crown or other restoration may be needed to protect the tooth and restore it to full function.
If you think you might be a candidate for a root canal treatment, schedule an appointment as soon as possible. If you would like to learn more about the process of root canal treatment, please read the Dear Doctor magazine article "Common Concerns About Root Canal Treatment."
By Dr. Jeffrey R. Wert & Associates - Family Dentistry
March 19, 2012
As the Boy Scouts say, it's best to be prepared. You may never have a traumatic injury to your teeth. But what if you do? Here are four questions and answers about such injuries and their treatment that may be helpful some day.
What are traumatic injuries?
We are talking about physical damage caused by a fall, an accident, or a blow to the face. The word trauma comes from the Greek root meaning "wound."
A traumatic injury can also cause broken, cracked, or split teeth, or a fracture to the root of the tooth. A tooth may be dislodged from its proper position, pushed sideways, out of or deeper into its socket. It may even be completely knocked out of your mouth.
What should you do if your tooth is knocked out?
With proper treatment, the tooth can be restored to its original place. You must handle the tooth gently and seek professional help as soon as possible. Rinse the tooth in cold water if it is dirty, but do not use any cleaning agent. Avoid touching the root. While hurrying to your dentist, keep the tooth from drying out by keeping it in a container of milk or of your saliva, or by holding it in your mouth between gum and cheek. It is vital to keep the tooth's living tissues moist until it can be professionally assessed and replanted in its socket. If a tooth has been dislodged but not knocked out, it must be repositioned in its socket and may be stabilized with a splint.
Who can treat a tooth that is damaged by a traumatic injury?
A general dentist, an oral surgeon or an endodontist is trained to treat such injuries. An endodontist is trained to treat the root canal(s) inside a tooth. The word comes from "endo" the Greek word for "inside," and "odont," the word for "tooth." After a tooth is replaced in its socket and stabilized, root canal treatment is often needed.
What is root canal treatment?
A tooth is composed mostly of dentin, a living tissue. The top part or crown is covered by hard mineralized enamel. The soft tissue inside the tooth, the pulp, contains blood vessels, nerves and connective tissues. It extends from the crown to the tip of the roots. Treatment of dental pulp injuries is called root canal or endodontic treatment and is usually needed to treat teeth that have been dislodged or fractured.
Contact us today to schedule an appointment to discuss your questions about injuries to teeth and related nerve damage. You can also learn more by reading the Dear Doctor magazine article "Trauma & Nerve Damage to Teeth."