Posts for tag: tooth decay
By Dr. Jeffrey R. Wert & Associates - Family Dentistry
May 30, 2012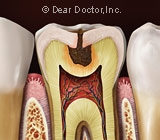 Did you know that the bacteria that cause tooth decay are usually transmitted to children from their parents, through sharing the same spoon or kissing? Once inside the child's mouth, the bacteria live on the teeth in what is called a biofilm. When the child consumes sugary foods or drinks, the bacteria act upon the sugar to produce acids that eat away at the child's teeth, producing tooth decay.
These bacteria thrive on carbohydrates such as bread, sweets, and sodas. Even fruit juices, which offer more vitamins than soda, are filled with sugars that lead to decay. The child's saliva works hard to neutralize the acidity produced from these foods, but if the child often snacks between meals this neutralization process doesn't have a chance to occur.
The first sign of decay may be white spots on the teeth, an indication that minerals in the surface enamel have been dissolved in certain locations. Before it goes any farther, this process can be reversed by reducing the exposure to acids and using fluorides to strengthen the tooth surface.
Make sure your child sees a dentist by his first birthday, to provide preventive care and treat any beginning decay.
You can also help your child develop the habit of brushing his teeth with fluoridated toothpaste. It is important to use only a smear of toothpaste on the brush for very young children, and a pea-sized amount on the brush for children over the age of 2. Sometimes small children swallow their toothpaste, and excessive amounts of fluoride can cause staining on the teeth. When your children are very young, you must brush their teeth. As they get older, they can do it themselves, with your supervision. We can also apply fluoride varnish to strengthen the tooth surface and make it resistant to acids.
Brushing twice a day is a good start. But it can't prevent tooth decay when a child is eating carbohydrates all day. One way to reduce the use of sugar is to use xylitol, a naturally occurring sweetener that looks and tastes like table sugar and improves oral health. Studies have shown that use of this sweetener reduces tooth decay in children.
Another good idea is to wean children from bottles and training cups as early as possible. Sometimes children are given bottles filled with milk or sugary beverages at bedtime to help them relax. A better idea for their teeth is to teach them to drink from a regular cup filled with milk — or preferably, with water.
Contact us today to schedule an appointment to discuss your questions about tooth decay in children. You can also learn more by reading the Dear Doctor magazine article "Managing Tooth Decay In Children With Chronic Diseases." While this article focuses on children with health challenges, it contains excellent advice to help all children prevent tooth decay.
By Dr. Jeffrey R. Wert & Associates - Family Dentistry
March 01, 2012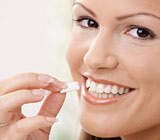 Can chewing gum prevent cavities? Yes! It can if the gum is sweetened with xylitol.
What is xylitol?
Xylitol is a type of "sugar alcohol," similar to sorbitol and mannitol, sugar replacements that are used in many low calorie foods. Xylitol occurs naturally in many fruits and vegetables and is obtained from the bark of birch trees, coconut shells and cottonseed hulls. It looks and tastes like sugar and is a diabetic-safe, low-calorie carbohydrate.
How does xylitol stop cavity formation?
Decay starts when certain bacteria break down sucrose (regular table sugar) and produce acids that dissolve the minerals in the enamel, the outer protective layer of your teeth. When the decay-causing bacteria try to consume xylitol, they are unable to break it down, and instead they begin to starve.
A normal mouth contains a large population of bacteria, and it is better for your teeth to have more "good" bacteria of the kind that do not cause cavities. Xylitol also stops your saliva from becoming acidic, so your mouth becomes a better environment for the "good" bacteria.
Chewing xylitol gum also increases your flow of saliva. Saliva contains calcium and fluoride and helps give these minerals back to your teeth (re-mineralization), undoing some of the effects of the cavity-causing bacteria. This makes chewing xylitol gum a particularly good solution for people who suffer from dry mouth.
How much xylitol do you need to prevent cavities?
We recommend that you chew or suck on two pieces of xylitol gum or two pieces of xylitol candy for five minutes following meals or snacks, four times daily — if you are at moderate to extreme risk for cavities. The target dose of xylitol is 6 to 10 grams (one or two teaspoons) spread throughout the day. Prolonged gum chewing is not advised, so most xylitol-sweetened products contain flavor that only lasts a short time to discourage excessive chewing. The only side effect of too much xylitol ingestion is that it may have a mild laxative effect.
I don't like chewing gum. Is there another way to get xylitol?
People who don't like to chew gum have the option of using xylitol in mints, candies, mouthwash, toothpaste, or mouth sprays. For these individuals, a minimum dose is 5 to 6 grams (one teaspoon) three times per day.
So now you can add xylitol to the list of ways to fight cavities: daily brushing and flossing, and regular professional cleanings — and chewing xylitol gum.
Contact us today to schedule an appointment to discuss your questions about xylitol and other methods of preventing tooth decay. You can also learn more by reading the Dear Doctor magazine article "Xylitol in Chewing Gum."
By Dr. Jeffrey R. Wert & Associates - Family Dentistry
February 08, 2012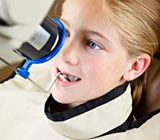 Yes, dental x-rays are a safe and vital tool we use for measuring and monitoring your oral health. We feel it is imperative to ensure that our patients have the facts — especially when it comes to their oral healthcare. This is why we want to respond to this important question about the safety of dental x-rays.
We want you to know what they are, how they are used, what makes them a safe and effective tool, and why they are so important to dentistry and your health. X-rays are a form of electromagnetic radiation, in fact, just like natural daylight, except they have a much shorter wavelength. And because they are a form of ionizing radiation, they can easily penetrate bodily tissues without causing any harm when used properly. The reasons we use them are obvious; they help us literally see what is unseen. For example, they enable us to see bone structure and roots of teeth among other things, and are commonly used for diagnosing tooth decay. Furthermore, today's x-ray machines and other image capturing techniques are so sophisticated and sensitive that the amount of radiation required for diagnosis is almost nothing when compared to what you get from the background radiation present in everyday living. In fact, the average single digital periapical ("peri" – around; "apical" – root end of a tooth) film is equal to 1/10 the amount of everyday natural environmental exposure. These facts make it clear that dental x-rays are completely safe and, thus, are nothing you need to be concerned about.
Learn more about this topic by reading the Dear Doctor magazine article "X-ray Frequency And Safety." If you need to schedule an appointment, contact us today.