Posts for tag: veneers
By DR. JEFFREY R. WERT & ASSOCIATES
November 03, 2017
How porcelain veneers from your dentists in Tannersville and the Pocono area can give you an outstanding smile
Are you living with a dull, boring smile? Do you want to have an outstanding smile that you will be proud to show off? If you answered yes to these questions, it's time to give yourself the outstanding smile you deserve. The answer is porcelain veneers!
Your dentists at Jeffrey R. Wert & Associates - Family Dentistry want to share how to show off your best possible smile with porcelain veneers. They proudly serve residents of Tannersville and the Pocono Mountain area of Pennsylvania and they can help you too.
Porcelain veneers are the go-to, high-tech treatment to enhance your smile by covering up major aesthetic and cosmetic issues like these:
Fracture lines and cracks from dental trauma or an accident
Chips and breaks from a sports injury or facial trauma
Excessive chipping and worn tooth edges from aging or bad habits
Heavy staining from lifestyle habits like smoking or drinking coffee
Dark discolorations from genetics or medications like tetracycline
Enamel defects, gaps or overlapping teeth due to genetics
There are many reasons why people choose porcelain veneers to improve their smiles. When you choose porcelain veneers, you can count on:
Natural, dazzling beauty because porcelain reflects light, just like your natural teeth
A stain-free smile because porcelain resists staining, so even if you smoke or drink coffee, you can still maintain a brilliant white smile
Minimally invasive treatment because porcelain veneers require little or no removal of tooth structure, just enough to accommodate the thickness of the veneers
Rapid results because you can have a completely new smile in as little as two to three appointments
Porcelain veneers are an excellent choice if you want to show off your best possible smile for a special event like a wedding, reunion, or even an all-important job interview. Your smile is your ticket to getting noticed and standing out in a crowd. Porcelain veneers can make your smile memorable.
You owe it to yourself to find out more about porcelain veneers by calling your dentists at Jeffrey R. Wert & Associates - Family Dentistry, serving the residents of Tannersville and the Pocono Mountain area of Pennsylvania. Get your outstanding smile by calling today!
By Dr. Jeffrey R. Wert & Associates
June 18, 2015
Could dental veneers improve the overall look and feel of your smile?
Are you thinking about changing the look of your smile? Thinking about getting dental veneers from your Pocono family dentist? If so,
find out whether this cosmetic treatment is right for your smile.
What are you looking to change about your smile?
Dental veneers are used to fix a multitude of cosmetic issues. If you suffer from any of these dental flaws then getting dental veneers could greatly improve your smile:
Severely stained teeth
Crooked or misshapen teeth
Minor overlapping or overcrowding
Spaces between teeth
Chipped or cracked teeth
While dental veneers can hide the majority of dental issues, keep in mind that many of these tend to be minor to moderate cases. Dental veneers can be an easier way to get a straighter smile without wearing braces, but don't expect veneers to be able to properly hide a severe misalignment.
Do you have any of these bad habits?
Do you find yourself biting your nails a lot? Are you known to grind or clench your teeth? If so, then dental veneers might not be right for you. Chronic teeth grinders can actually whittle their teeth down significantly enough that veneers just won't take.
Furthermore, dental veneers are prone to damage if placed under unnecessary force or pressure, particularly twisting or grinding motions. If you bite your nails often or have been diagnosed with TMJ then talk to your Pocono family dentist about how to combat these issues before getting veneers.
Do you maintain good oral hygiene?
Since dental veneers can only be placed on healthy smiles, your dentist will need to give you a clean bill of health and make sure your smile is free of cavities and gum disease. Your dental responsibilities don't stop after you get your dental veneers either.
Once you have your veneers on you will want to treat them no differently than regular teeth. After all, decay and gum disease can still form on natural tooth structures and between teeth, so it's important that you brush and floss regularly to maintain a healthy smile.
Interested in getting dental veneers? The next step is to schedule a consultation with your family dentist in Pocono. Call the office of Dr. Jeffrey R. Wert & Associates to get on the books!
By Dr. Jeffrey R. Wert & Associates - Family Dentistry
October 23, 2011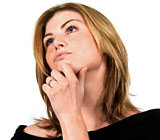 Are you are considering a cosmetic procedure such as porcelain veneers? To assist you in making this decision, we developed the following list of questions you should consider asking before getting porcelain veneers.
Am I a good candidate for porcelain veneers?
Can you show me examples of your work?
How much will my veneers cost?
Will my insurance cover any portion of my procedure?
Do you offer any financing for my procedure or can you make any recommendations for financing?
Can you create a computer-generated image or mock-up of what my new smile will look like?
How will you chose what color to make my veneers?
How long will it take from my initial consultation until I receive my final, permanent veneers?
How much tooth reduction (drilling) will you need to do before placing my veneers?
How do veneers attach to my teeth?
Can you create a prototype or temporary veneers so that I can "test drive" my new smile before my permanent ones are made?
What do I need to do to clean and protect my veneers?
How long can I expect my veneers to last?
If at some point in the future I decide I want my veneers removed, what can I expect?
We hope that the above questions help you obtain all the answers you need as you consider getting porcelain veneers. If you have other questions, concerns, or if you are ready to take the next step and schedule a consultation, please contact our office.