Visit us at our office in Tannersville
Comfort and convenience are the hallmarks of Dr. Jeffrey R. Wert & Associates - Family Dentistry's office operations. To ensure your convenience, below is the information you need about our hours, location, appointment scheduling, insurance acceptance and billing.
Pocono, PA area Cosmetic Dentist
Dr. Jeffrey R. Wert & Associates
2796 Route 611
Tannersville
,
PA
18372
(570) 629-1570
(570) 629-1187
fax
Contact For Pricing Options
Monday:
Tuesday:
Wednesday:
Thursday:
Friday:
Saturday:
Sunday:

8:00 AM - 5:00 PM
8:00 AM - 5:00 PM
8:00 AM - 5:00 PM
8:00 AM - 5:00 PM
Closed
Closed
Closed
---
Appointments
Appointments are by request during our regular office hours. Click here to request an appointment.
*Parents or guardians of minors (under 18 years of age) must remain on premises while treatment is rendered.
---
Insurance and Billing
We are participating providers for the following insurance companies:
Aetna Dental PPO
Ameritas
Assurant / DHA (Dental Health Alliance)
Blue Cross/Blue Shield (specific states and select plans and/or networks)
Capital Blue Cross
Cigna PPO
Delta Dental PPO (including AARP)
Fidelio
Guardian PPO
Metlife PDP
United Concordia (PPO, Freedom Blue, and Chips Program)
* Please verify with your dental insurance carrier if our practice participates with your particular plan/group
We participate with the following discount plans:
Preferred Network Access Discount and Savings Plans by Cigna
Payment Options
Cash
Check
VISA
MasterCard
Care Credit
Financing Options
CareCredit is there to help you pay for treatments and procedures your insurance doesn't cover. We offer deferred interest financing on qualifying transactions so you can get what you want, when you want it. You can even use CareCredit for your family and favorite pet.

With three simple steps, including an instant approval process, it's easy to apply for CareCredit. After you're approved, you're free to use CareCredit for the services you choose including LASIK, veterinary, dentistry, cosmetic, hearing aids and more.

CareCredit is endorsed by some of the most credible organizations specific to each healthcare profession we support. And CareCredit is a GE Money Company, so you know you can count on them. For over 20 years, CareCredit has been helping over five million cardholders get the healthcare treatments they want and need.
Now you don't have to worry about saving up for the procedures you want and need. With CareCredit, the decision's in your hands to get what you want, when you want it. For more information visit CareCredit.com or click here to apply online.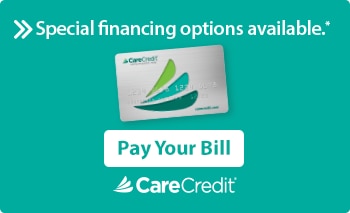 ---
Facilities and Equipment
Our team uses the latest technology available in the dental industry. You have our commitment that we will continue to seek out technology that will provide our patients the best service available.
Digital X-rays
Intra-oral camera
Cavitron Plus
Rotary Endodontics
Caesy Patient Educational System
Eaglesoft Dental Software
Latest Sterilization Technology
We use the very latest sterilization technology available in the dental industry. Sterilization and disinfection is so important to us, we have dedicated a room just for this purpose. We encourage you to learn more about the technology and equipment we are using by reviewing the links below.

HIPAA
The Health Insurance Portability and Accountability Act of 1996 (HIPAA) is a federal law that sets rules about who can look at and receive your health information. This law gives you rights over your health information and when it can be shared. It also requires your doctors, pharmacists and other health care providers, and your health plan to explain your rights and how your health information can be used or shared. Please click here to view or download a copy of our office's current Notice of Privacy Practies. You may also request a printed copy of our Privacy Practices at any time.